In Silico Design
The next generation of therapeutic antibodies are being designed by computers. At EVQLV, we continuously expand our capabilities with in silico, de novo antibody discovery to transform the pace, cost, and scale of drug development.
Our technology enhancements promise to facilitate the discovery of antibodies against challenging therapeutic targets, while saving precious resources that our partners can redeploy in pursuit of the development of additional novel therapeutics.
The EVQLV Platform
Our proprietary computational platform synthesizes innovations in antibody discovery and can produce development-ready, fully-human antibodies without the need for an antigen's crystal structure. We specialize in optimizing the binding of fragment variables, and can work with any antibody format (e.g. scFv, nanobodies, bispecific antibodies, ADCs, AACs, AOCs, etc.).
EVQLV's de novo antibody discovery process makes use of our Prescreened Human-Antibody Synthetic Intelligent Compendium (PHASIC) to generate target-specific display antibodies. By calculating hundreds of biophysical and machine-learned features, we generate a digital signature of antibodies and characterize them to be optimized for any set of desired properties, including affinity, immunogenicity, stability, aggregation, cross-reactivity, and more.
Smarter Iterations
Traditional drug discovery methods require extensive cycles of guesswork followed by time-consuming rounds of engineering and assays to identify lead-ready candidates. This process is not only long, it is expensive, risky, and failure-prone. The EVQLV platform continuously demonstrates the capacity to select viable therapeutic candidates, minimizing guesswork while designing (rather than discovering) antibodies. We replace the long, iterative process with faster, customizable, multi-parameter optimization.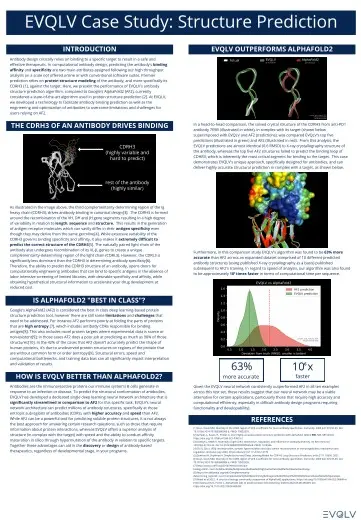 Learn how EVQLV's antibody structure prediction algorithm compares to Google's AlphaFold2.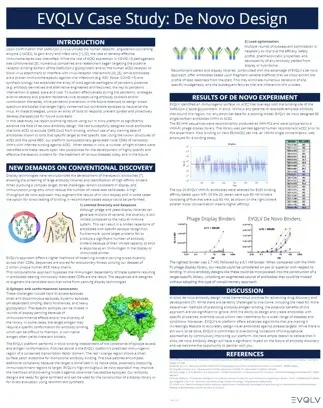 See how our in silico platform significantly advances the field of de novo antibody design.